Eleven new rides and attractions across ten parks
Higher, Faster, Farther: With eleven new highlights across ten theme parks, SeaWorld Parks & Entertainment will celebrate the most openings in a year in 2022, including some of the steepest, largest and fastest roller coasters of the world. From breathtaking water slides and fastest hybrid roller coasters to plenty of experiences for small park visitors, the new attractions and rides make the hearts of many theme park fans beat faster. In addition, from March 2022, the new Sesame Place San Diego on the west coast of the United States will expand the park's family.
We have an ambitious goal to create something new and meaningful in each of our parks. With eleven openings pending, we have the most impressive lineup in our company's history for 2022.

Marc Swanson, CEO of SeaWorld Parks & Entertainment
The Sun State's Steepest Roller Coaster | Sea World Orlando, Florida
Icebreaker: February 18, 2022
Back, forth and down Florida's steepest drop at a 100-degree angle from 28 meters: SeaWorld Orlando already has the largest number of roller coasters in the theme park capital and offers another highlight with the new "Ice Breaker" .
Emotions above and below the water | Aquatica Orlando, Florida
Reef Plunge – March 2022
Aquatica Orlando's new "Reef Plunge" takes park guests down a 100-meter-long curved tube slide. The highlight: the transparent sections allow for fantastic views, especially when the tube dives and a number of marine creatures such as Commerson's dolphins, leopard sharks, and exotic fish observe visitors.

World's Tallest, Fastest, Steepest Hybrid Roller Coaster | Busch Gardens Tampa Bay, Florida
Iron Gwazi – March 2022
The Iron Gwazi roller coaster at Busch Gardens Tampa Bay takes the excitement to the next level. The highlight, in the truest sense of the word, is the 91-degree drop, which allows passengers to descend 63 meters at a speed of up to 122 kilometers per hour.

The world's first funnel slide duel | Adventure Island Tampa, Florida
Rapids Racers – March 2022
Wahoo Remix – March 2022
Adventure Island Tampa, which will be open year-round in the future, celebrates two new attractions: Park visitors can compete in teams on the "Rapids Racer" waterslide. A special and unique highlight in the world are the two funnels that both teams must complete on the way down. "Wahoo Remix", formerly "Wahoo Run", will also inspire a new shape and provide a lot of party atmosphere. Accompanied by light and sound elements, visitors slide down a 182-meter-long slide on tires.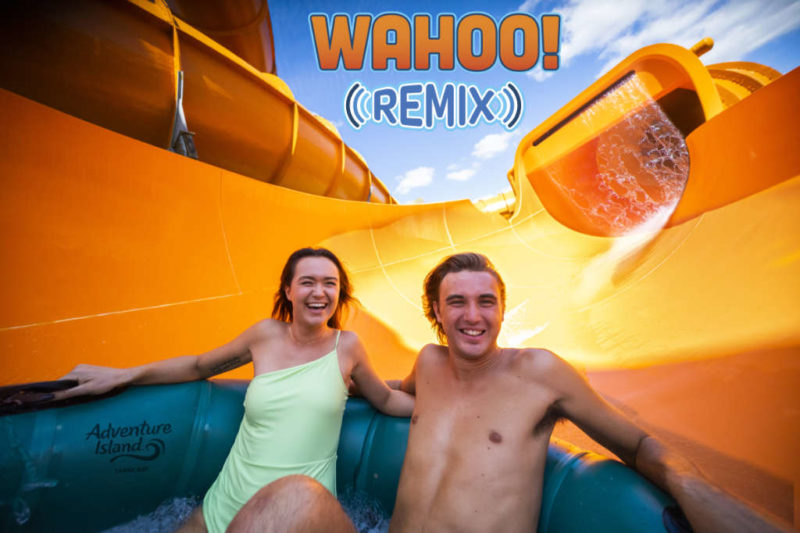 California's Tallest, Fastest, Longest Roller Coaster | Marine world San Diego, California
Emperor – March 2022
The new "Emperor" roller coaster at SeaWorld in San Diego will provide pure adrenaline. In addition to a vertical "dip" of more than 44 meters, passengers run through rings of up to 95 kilometers per hour. Your feet dangle freely on the track, because "Emperor" is the only "bottomless" roller coaster in the Golden State.
The Fastest Multi-Launch Roller Coaster in the World | Busch Gardens Williamsburg, Virginia
Pantheon ™ – March 2022
The record-breaking Pantheon ™ roller coaster at Busch Gardens Williamsburg harnesses the power and speed of the five greatest Roman gods. With a top speed of 117 kilometers per hour, 95 degrees and 55 meters of elevation gain, four acceleration sequences, 15 moments of zero gravity and two overhead elements, it literally makes the hearts of roller coaster fans beat faster.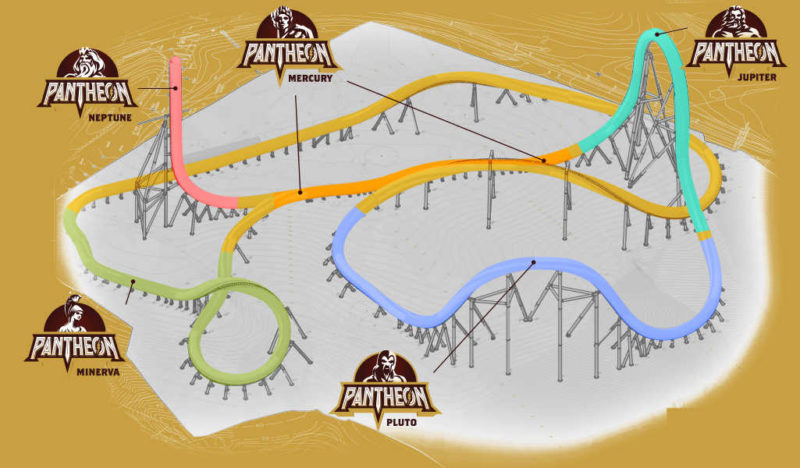 A special effect experience for all the senses | USA aquatic country, Virginia
Aquazoid Amped – May 2022
Pulsating music and numerous lighting effects are part of the new "Aquazoid Amped" special effects slide experience at Virginia's largest water park. At speeds of up to six meters per second, guests glide along the 263-meter-long inner tube on oversized tires, which comes in bright colors and surprises in a total of 20 spots along the way.
The biggest swing in the world | Sea World San Antonio, Texas
Tidal wave – Spring 2022
The "Tidal Surge" will open the world's largest swing attraction at SeaWorld in San Antonio. Two pendulum arms carry the 40 passengers higher and higher with each new swing. The two opposing wishbones reach top speeds of over 100 kilometers per hour and a maximum height of 41 meters.

Slide the race | Aquatic San Antonio, Texas
Riptide Race – Spring 2022
On the tires, get ready, go! From spring 2022 the water rats can compete on the two slides of the "Riptide Race" at Aquatica San Antonio. Side by side and against each other, teams of two descend through high-speed tunnels and open sections.
Pennsylvania Family Fun | Sesame Place Philadelphia, Pennsylvania
Big Bird Tour Bus – April 2022
In a huge red double-decker bus, the big yellow bird "Bibo" and his furry friends from Sesame Street take the participants on an exciting journey that sometimes involves ups and downs.
© SeaWorld Parks & Entertainment press release, January 11, 2022