As Bitcoin struggles to rise above $ 20,000 and its social indicators dip into the red, hopes for a price hike this October are already starting to fade.
The start of the month is often synonymous with rising prices and improving sentiment in the cryptocurrency market, but this month was not the case.
According to Santiment, Bitcoin's weighted sentiment fell to a score of -1.185, while the asset's social volume on Twitter fell to its lowest level since April 2022. Both metrics suggest that Satoshi Nakamoto's cryptocurrency no longer dominates discussions on social media, which means that the investor's interest is dropping.
Has Bitcoin already hit rock bottom?
According to analyst Willy Woo, the worst is still ahead of us, which means that Bitcoin may not have hit rock bottom yet. Looking at the graph below, which shows the amount of BTC that has fallen below their purchase prices, it can be seen that in past cycles, the price of Bitcoin has only hit a low when 60% of the coins have traded at below the purchase price.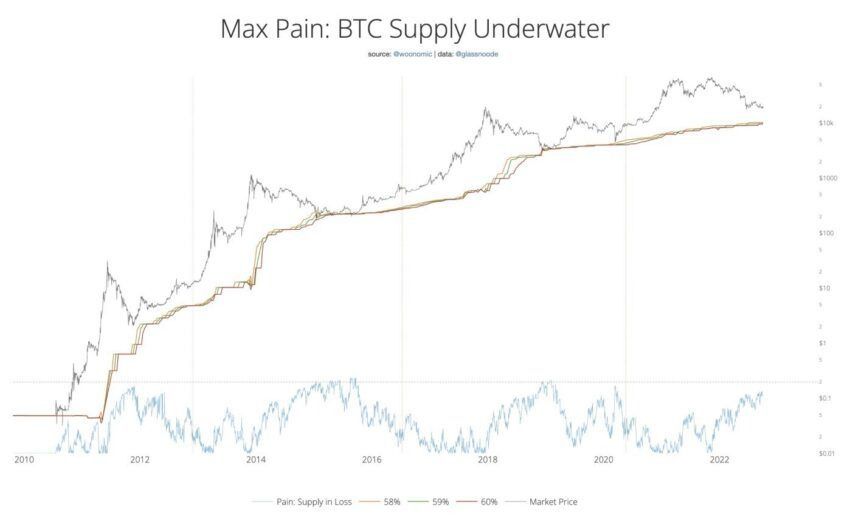 This time around, we still have to witness a similar scenario. Given the above data, the low of the current Bitcoin cycle could be around $ 10,000. However, given that "the current market structure is very different," it is unclear whether $ 10,000 would really be a minimum.
Trading volumes on the rise
On the weekly chart, Bitcoin's price has been trading in a tight range of $ 18,800 to $ 23,700 since June 2022. The weekly RSI remains fairly stable as sellers continue to outperform buyers.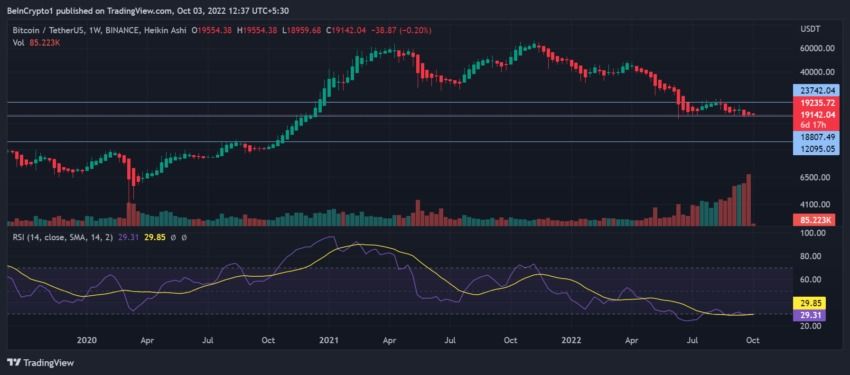 Likewise, BTC transfers from exchanges to crypto wallets hit an all-time high in the last quarter, which is a bullish sign. Unfortunately, this wasn't enough to push the price past its resistance levels.
Santiment data reveals that 34,723 BTC left the exchanges on September 30th. Something that could indicate that investors are quite confident for the final quarter of the year. It should also be noted that the last time the number of BTCs withdrawn from exchanges reached such a level was on June 17, and that the price of Bitcoin jumped 22% in July.
While these massive retreats indicate a near-term bullish trend, this October is unlikely to be a Uptober (bullish October). In fact, if the tenth month of the year has often been bullish during bull markets, it has always been bearish during Bitcoin bear markets.

That said, the correlation between BTC and stocks, especially tech stocks, is still seeing a sustained rise. Macroeconomic concerns related to inflation, the geopolitical climate and monetary policies also contributed to the fall of Bitcoin and the broader cryptocurrency market.
Disclaimer
All information on our website is published in good faith and for general information purposes only. Any action taken by the reader based on the information found on our website is entirely at your own risk.