Long neglected by the Web3 ecosystem, the Tezos platform stands out today with an effervescent artistic activity, illustrated by a partnership with Art Basel, the greatest contemporary art actor in the world.
Launched in 2018, following a $ 232 million ICO made in 2017 (a record for the time), the Tezos blockchain has long been synonymous with legal trouble, whether it's the conflict between its creators. the Franco-Americans Arthur and Kathleen Breitman, and the foundation responsible for the funds, or the class action brought on American soil by investors against these three parties and definitively resolved in 2020.
In 2020, his network painfully generated 11,000 monthly transactions, an overall modest activity given its valuation at the time (2 billion dollars) and the effervescence that was observed simultaneously on the Ethereum platform (between 18 and 39 million transactions per month, according to The Block records). "It was a bit of a dead blockchain. You could even say that there was simply nothing," recalls Gaspard Broustine, head of Ledger's NFT branch. "Until the emergence of Hicetnunc, Tezos' first NFT platform".
A privileged platform for its accessibility
Founded in March 2021 by a young Brazilian developer named Rafael Lima, the hicetnunc.xyz NFT market, Hen for short, truly sounds the revival of a blockchain that has been somewhat abandoned so far. "Art exploded on Tezos in 2021 with hicetnunc, created in a totally organic way," acknowledges Arthur Breitman, creator of Tezos. "Obviously, Tezos has good tools and developer guides, there is a whole environment that makes it easy to create projects, but they are independent projects and have found a home on Tezos."
Just two months after its creation, Hen surpassed Opensea in the number of transactions and users, who are attracted by the Tezos environment, then more accessible than Ethereum, whose network is congested and transactions expensive. "The transaction costs on Ethereum were very high, so it put a barrier to direct entry for many artists, especially in developing countries," continues Gaspard Broustine, approved by Diane Drubay, director of the art and culture department of TZConnect. , Berlin-based development studio on Tezos: "Raphael Lima's initiative allowed to open the blockchain and provide access to the art market to much more diverse communities, without having to pay expensive transaction fees and without a catastrophic impact on the environment ", he summarizes.
Since its genesis and therefore four years before Ethereum, the Tezos network has in fact adopted a so-called liquid proof-of-stake consensus, a variation of the proof of stake, less energy-intensive than that of the proof of work of Bitcoin and even more. 'now, Ethereum. "Proof-of-stake was an important factor in attracting users. It is no coincidence that we have been from the beginning because from a cultural point of view it was unthinkable to pretend for years to be interested in this method of consensus", assures the JDN Arthur Breitman, a way to block the latest Ethereum update.
Although hicetnunc has now disappeared, other platforms have taken over, such as Objkt.com or the marketplace dedicated to generative art and founded by French Baptiste Crespy, FXHash. For their part, the Tezos Foundation and its divisions located around the world promote the brand by materially supporting local artistic initiatives. "There are big regular events to celebrate the community: Nine Nights in Asia; Proof-of-People in London; I regularly organize meetups in Berlin. Exhibition, online resources, mentoring and grants for artists to use Tezos," says Diane Drubay. Located in the Marais in Paris since 2010, the Charlot contemporary art gallery decided to launch its online NFT sales platform on the Tezos network in October. This is obvious according to its owner Valérie Hasson-Bénillouche, who believes that "the Tezos foundation is very attentive and present at the slightest need. It is one of the platforms that artists use the most, it offers excellent visibility". Visible, the Tezos foundation was particularly visible during the inaugural edition of Art Basel's Paris + with three days of events at the Bal de la Marine. In December it is also a partner of Art Basel Miami, the largest contemporary art fair in the world, a sign of acquired legitimacy.
"Everyone is talking about cryptocurrencies but not Tezos"
Today the activity on the platform has nothing to do with what was generated two years ago: according to the BetterCallDev database, the network records between 3 and 5 million calls from smart contracts (interactions with autonomous programs) per month in 2022 against 200,000 to 400,000 in 2020. "Since the advent of NFTs on Tezos, the business has grown rapidly," insists Gaspard Broustine. "Everyone is talking about crypto winter, but on Tezos we have seen the number of transactions increase and some of the best sales have occurred. Simply because we are talking about art," adds Diane Drubay.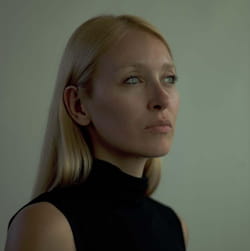 However, the blockchain is still not supported by the marketplace leader, OpenSea, despite the promises of the latter, who received a donation of $ 200,000 in 2021 for this technical development. "It's regrettable that they never did anything, but it's not a problem for us. OpenSea is a bad student in the field and there are much better markets for Tezos, like Objkt," launches Arthur Breitman. In addition to Objkt and fxhash, exchange platforms abound on the net: Teia.art from the code of hicetnunc, Typed.art dedicated to textual NFTs or even the newborn Minteed, created in France to promote creation without technological knowledge and in particular supported by FNAC Darty during a € 3 million fundraiser last July. Also in France, the Lezar House incubator of the startup PyratzLabs launched last October ArtOS, a platform dedicated to projects that connect digital and physical.
Music and games, after visual art?
However, activity remains increasingly consistent on Ethereum or even Solana. With both of these networks adopting proof-of-stake, the question is whether Tezos will remain relevant. "On Tezos, there is no blockchain shutdown, unlike Solana (regularly stopped due to technical problems, ed) and to the question of whether artists will switch to Ethereum 2.0, the answer is often no.
There is a strong and supportive community that will remain on Tezos. It was created organically with developers who put their time into it. I like to say that NFT on Ethereum is New York and on Tezos it is Berlin. It's more underground, more experimental. Artists on both platforms also work more freely on Tezos. You find things off the beaten track ", analyzes Gaspard Broustine. A sentiment obviously shared by Diane Drubay and Arthur Breitman. Gallerist Valérie Hasson-Bénillouche is more nuanced because if" artists appreciate the support of the Tezos foundation, a in the end, it will depend mainly from how collectors are positioned and the platform they prefer ".
The fact remains that, on Tezos as on other platforms, the activity of the NFT market will run out in this third quarter of 2022. Will crypto-art and generative art alone be enough to generate business in the future? Arthur Breitman has his idea on the issue and suggests the future axes of expansion of his platform: "Music is the art form that touches most of the people in the world and from this point of view there is a vector of disclosure that seems very important to me. The same goes for games: today a mediocre game has more users than a hugely successful blockchain. It is therefore also an industry that will bring people together. " .