The price of the Polygon (MATIC) cryptocurrency regained the $0.80 horizontal support zone. That said, while a short-term bullish pattern is in place, the direction of the long-term trend is unclear.
Polygon is a platform that offers a scaling solution for the Ethereum blockchain. This protocol therefore aims to transform Ethereum into a multi-chain system, thus becoming what could be considered an internet of blockchains.
Formerly as the Matic Network, the project renamed itself to Polygon in February 2021. Like the Ethereum network, it uses proof-of-stake consensus.
Polygon price had been falling below a descending resistance line since December 2021. At the time, it had just reached an all-time high of $2.92. Its downward move ended in June 2022 with a low of $0.31.
Since then, Polygon has been on the rise. In July, it broke through a descending resistance line and the $0.80 horizontal area. This area now provides price support (green arrows). The closest resistance zone is located at $1.70.
The weekly RSI, on the other hand, remains undecided, settling at the 50 line.
That being said, a potential decline in Polygon below the $0.80 zone could have a major impact on future price action. Similarly, this decline would also cause the RSI to drop below 50, suggesting a bearish outlook for MATIC.
Conversely, a bounce to the $0.80 level could be the catalyst for an upward move towards $1.70.
The MATIC course has formed a double bottom pattern
On Nov. 22, Magic Eden, a leading NFT marketplace on Solana, announced it would add Polygon as a third blockchain available on its platform. MATIC price has since been on an upward trend, despite a small decline over the past 24 hours at the time of writing.
The six-hour technical analysis data shows that the price has formed a double bottom pattern (green arrows). The second low appeared after MATIC broke through a short-term descending resistance line. However, this pattern has not been accompanied by a bullish RSI divergence, which somewhat reduces its validity.
If this pattern is validated, however, it could lead to an upside towards the $1.10-1.20 resistance zone. This would complete the C wave of an ABC structure.
Conversely, a drop below the second low located at $0.76 would negate this Polygon price prediction.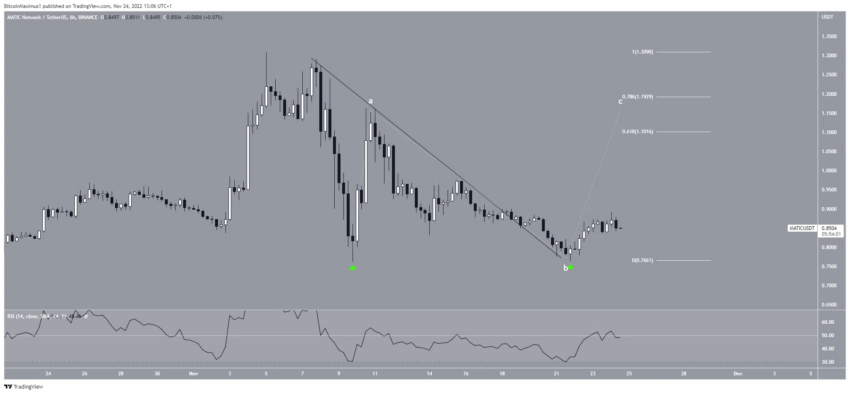 $0.80, a crucial area for trend direction
The overnight data for November 24 provides some mixed signals, including the RSI moving above and below 50.
However, a bullish signal is observed in the form of a deviation and recovery of the price. Polygon also deviated below the $0.80 zone in September 2021 (red circle), before retaking the zone soon after. Since then, it has been following an ascending support line.
Therefore, the $0.80 zone could be considered as a threshold for the direction of the trend. A close below this zone would therefore suggest that the trend is down.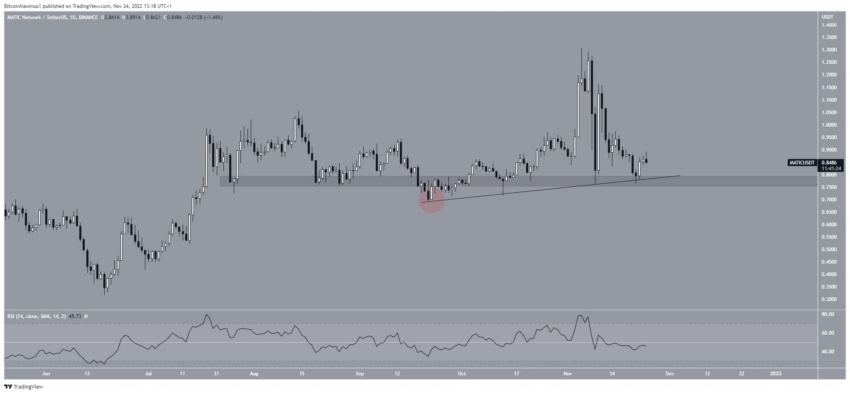 Disclaimer
All information on our website is published in good faith and for general information purposes only. Any action you take based on information found on our website is entirely at your own risk.