Everyone has heard of blockchain. But not everyone understood what it was about. Born with cryptocurrencies (the dark and mysterious universe where fortunes were made as quickly as they fell) this new technology (?) ethics (?) algorithm (?) procedure (?) is on the way to blow you away with both feet in the deep depths of the future. Simple explanations to shine socially, but not only 😉
What is this blockchain?
Definition: Blockchain is a technology for storing and transmitting information using a chain of blocks 👍
These blocks store data in a transparent, secure and immutable way. Each block contains data, such as financial transactions or information about the owners of digital assets. These blocks are linked together by cryptographic links* (immutable, unforgeable), creating a chain of blocks that is difficult to alter or tamper with.
Blockchain technology is used in many fields. Especially for digital currencies, smart contracts, land registers…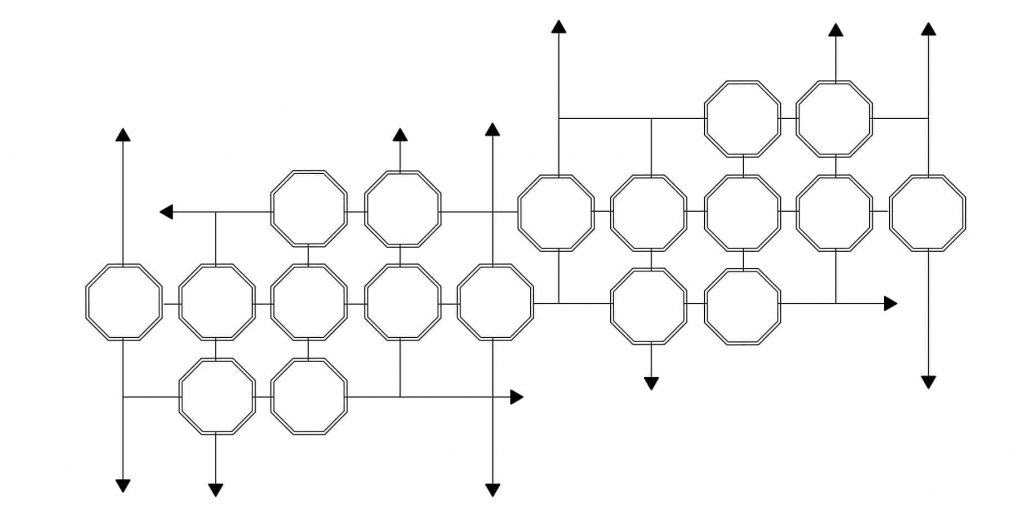 Companies and blockchains
Companies are already using blockchain technology in various areas, such as:
Financial Transactions:
Businesses are using blockchain to make transactions faster, cheaper and more secure than traditional banking systems.
supply chain management (the supply chain):
Companies use the blockchain to track products and raw materials at every stage of the supply chain. And

n other words, c

This reduces the risk of fraud and improves operational efficiency.
Smart contracts:
The blockchain is also used to create automated contracts. They run automatically when certain conditions are met.
Digital identity management:
Businesses are using the blockchain to store their customers' identity information in a secure and verifiable way.
Non-Fungible Tokens (NFT):
Companies use the blockchain to create non-fungible tokens (NFTs). They represent unique digital assets such as digital artwork or collectibles.
Examples of companies using blockchain
INTERSECTION uses the blockchain for the traceability of its products. Thus the company traces the origin of the food products sold in its stores. This allows consumers to verify the origin and quality of products and businesses to reduce the risk of fraud.
VISA use the blockchain to manage payments. Facilitate international transactions using a cryptographic token. It is used to make online payments.
MAERSK uses the blockchain to manage its supply chain. This allows the company to track containers and cargo carried by ships, which helps reduce costs and improve operational efficiency.
UBS extension uses the blockchain to manage its digital assets. The company stores information about stocks and bonds, which helps it reduce costs and facilitate transactions.
The Auction House SOTHEBY'S used the blockchain to organize the sale of an NFT artwork, this allowed transparency in the auction and monitoring of the owners of the artwork.
the goodwill BLOCKED use identity management. It therefore manages users' digital identity data in a secure and verifiable way.
The advantages of this technology for companies
Several reasons why it can be beneficial to use the blockchain:
Security and transparency : Blockchain technology allows information to be stored securely and transparently, using cryptographic links to ensure that data cannot be altered or tampered with.
Cost reduction : Using blockchain, companies can reduce the costs of managing transactions, supply chain and digital assets.
Automate : Smart contracts help automate processes that normally require human intervention, reducing errors and delays.
Transparency of ownership : Using blockchain, companies can store information about the owners of digital assets, which helps facilitate transactions and reduce the risk of fraud.
Transparency : Blockchain technology allows information related to transactions to be managed transparently, which allows for better monitoring and greater trust on the part of users
Immutability : once stored in a blockchain block, the information can no longer be changed or deleted, thus ensuring the long-term traceability of the information.
Interoperability : Blockchains can be linked together to create larger and more efficient data networks.
There are many other examples of commercial uses of blockchain in companies of different industries and sizes.
This technology is evolving. The uses are discovered day after day and its use is becoming more and more democratic. More and more companies are using it to improve their performance and meet consumer needs. In short, blockchain technology offers opportunities to companies: greater transparency, greater security, cost reduction and automation of operations.
---
*Cryptolinks are techniques used to connect blocks in a blockchain. They ensure that blocks cannot be modified or tampered with once added to the chain.
Cryptographic links are generated using hashing algorithms. These algorithms transform data in a block into a series of characters, called a hash.
The hash is then linked to the previous block, thus forming a cryptographic link between the two blocks. Therefore, if the data of a block is changed, the hash no longer matches the hash of the previous block, which therefore reveals a change.
That is why cryptographic links ensure the security and integrity of the data stored in the blockchain.